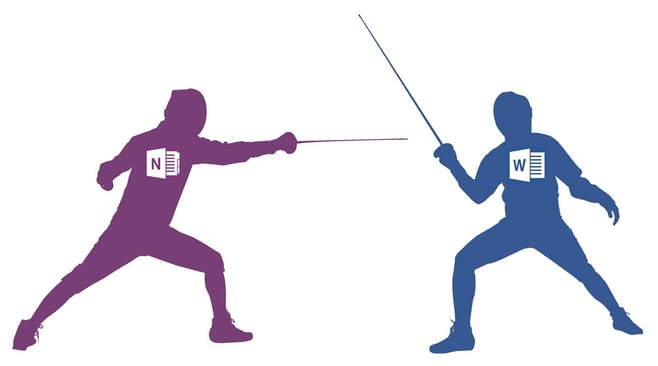 If you've been following our blog recently, you'll have picked up on the fact that we're big fans of OneNote. We love how it opens up what's possible in terms of student-teacher collaboration, empowers students to have more control over their learning and saves teachers time and stress on admin. If you've never used OneNote before, you might be wondering whether a move over to the application is worth it – can't you get by on trusty old Microsoft Word? We're going to compare and contrast OneNote vs Word so that you can decide for yourself which platform is best for your teaching needs.
Read more: Formative Assessment using OneNote
OneNote and Word were designed for very different purposes
A quick browse through forums on OneNote is enough to see that a lot of people wish it was more like Word. Word has been a staple feature of desktops since 1983, and as its features have evolved over time, it's become the standard setter for word processing. But as Kelly Marshall emphasises on the IT Groove blog, Word was designed to create documents destined for printing; OneNote was designed specifically to eliminate the need for paper. It's less a case of choosing one over the other, but about getting to know how to best use both applications and how the two can complement each other.
Read more: Top 6 Tips: How to use OneNote in the classroom
OneNote was designed to be a digital whiteboard for flexible note-making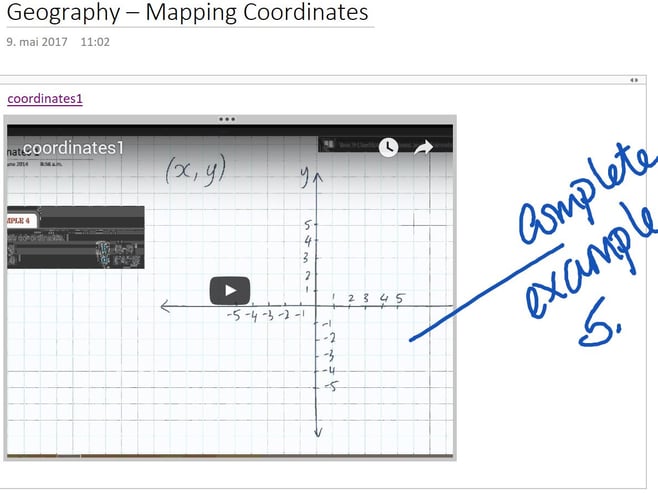 The beauty of OneNote is that teachers and students have a lot of flexibility in terms of how they record their notes—they can type, write, scribble, insert images and video, quotations from web pages. OneNote Notebooks can be divided into sections and then into pages, to help organise fits of inspiration in such a way that they can be referred back to easily.
Read more: Why OneNote as a Whiteboard is the ultimate teacher's aid
With OneNote, you can collate all kinds of multimedia into one space
The platform is brilliant as a collator of information coming from multiple different sources—clippings from websites, voice recordings, video, documents), and makes sharing content among groups and individuals wonderfully easy (all that's needed is a web browser, internet connection and a device to view it all on). Being able to highlight and annotate whatever you include in your OneNote Notebooks creates that offline feel one doesn't get in Word.
When more advanced formatting tools are required, Word comes into its own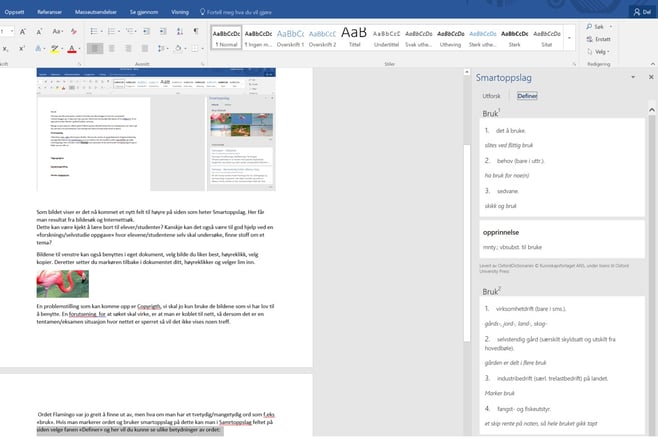 Word really comes into its own is when you need advanced formatting and revision tools. Features such as track changes are helpful for collaborating on a written document, and you won't find any of its advanced referencing tools in OneNote. The great thing is you don't need to choose between either application—you can use both. In OneNote you can export files over to Word (select pages, section or Notebooks) as .docx documents that can be edited in Word. If you need to send a Word document to OneNote, you can do so using the Print function.
Read more: Formative Assessment using OneNote
OneNote vs Word: There's room for both OneNote and Word in education
As a teacher, you'll appreciate that learning is both a creative and a logical process. OneNote is great at supporting the creative, spontaneous aspect of learning and teaching, while Word—with its rigid features and rules—is helpful for more left-brained functions, such as essay writing. So it might not be a matter of OneNote vs Word, but OneNote and Word!
Whether you're a OneNote newcomer, or already have experience with the application, sign up to our webinar to get some OneNote tips and learn more about how to extract maximum value from it and enhance your students' learning experience. Get in touch with us if you'd like to continue the OneNote vs Word debate.